I've traveled to the sunshine state many times, often spending a brief amount of time in Georgia on the way there. I wanted to know more about the state of Georgia, so it made sense to do a bunch of research to find out the pros and cons of living in the Peach State.
As a kid growing up in the 1980's, one of my sports heroes was Hershel Walker. He played football for the Georgia Bulldogs. He was my first introduction to the state. 
Also, Augusta, Georgia is home to Masters golf tournaments, the most prestigious of the PGA majors. The amazing green spaces and beautiful flowers show off the fantastic beauty of the state.
PROS OF LIVING IN GEORGIA
Low Cost of Living (Pro)
Georgia has a reputation for being one of the most affordable states to live. This is a huge pro as the cost of living is critical to the quality of your daily lifestyle.
A recent study lists Georgia as the 6th best state in affordability, which was calculated as the average difference between the average wage and the cost of living.
Although this can vary regionally within the state, being in the top 15% of all states is a good benchmark.
Warm Climate (Pro)
Great weather overall is a pro. Many people dread the long cold winters of the Midwest and the Northeast. Not so in Georgia, which is known for its mild winters.
Georgia ranks number six in overall weather in one study, trailing only California, Hawaii, Texas, Arizona and Florida. 
Wow, top 6 in cost of living and weather, that is pretty good!
Natural Beauty (Pro) Georgia is also known for its beautiful landscape!
Some of Georgia's natural attractions include:
The Blue Ridge Mountains: Located in northern Georgia, the mountains are known for their panoramic views, lush forests, and rolling hills. People often enjoy the area for camping, hiking, and scenic drives.
Chattahoochee National Forest: Also in the northern part of the state, the forest features breathtaking waterfalls, serene lakes, and abundant wildlife. People enjoy the area for its hiking, fishing, boating, and other outdoor activities.
Cumberland Island: On the Atlantic coast, this barrier island showcases untouched natural beauty. The island has beautiful beaches, maritime forests, and marshlands. This area has lots of wildlife species, including wild horses! 
Some other attractions include Okefenokee Swamp, Tybee Island, Tallulah Gorge State Park and Amicalola Falls (one of the tallest in the US).
What a fantastic variety of scenery! Georgia has mountains, beaches, waterfalls, swamps, parks and everything in between.  The state has a limited amount of Atlantic coastline, so for those that want lots of beach options a drive to their southern neighbor (Florida) offers lots of additional options.
Southern Hospitality (Pro)
As a southern state, Georgia has always been known for its southern hospitality. The site Enjoy Travel has Georgia ranked in the top third of all of the United States in terms of the friendliness of its citizens.
It often ranks high, if not the highest, in other surveys comparing its hospitality to other southern states.
Growing Job Market (Pro)
Georgia's economy continues to have a thriving job market. Job opportunities are plentiful in many areas.
Every since the great recession in 2008, where the state unemployment rate topped 10%, the overall unemployment trend has been downward as shown by the Bureau of Labor Statistics (BLS) in the chart below. There was a brief spike due to Covid-19 in 2020, but it quickly recovered to the current level of just over 3%. The recent numbers are some of the best over the last 20 years.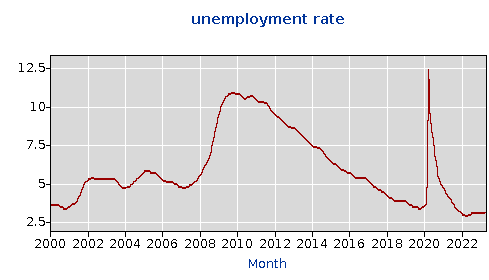 Source: Bureau of Labor Statistics (Georgia unemployment rate)
Employment is generally good throughout the United States at this time. Georgia ranks 27th in unemployment currently compared to other states according to the BLS. This puts Georgia in the middle overall.
The bottom line is jobs are plentiful at this time and the economy is strong.
Sports Fan Culture (Pro)
Georgia has a thriving sports culture. From college sports to professional sports, Georgia offers something for every fan. Some of the prominent sports teams include:
Atlanta Braves – professional baseball
Atlanta Falcons – professional football
Atlanta Hawks – professional basketball
Atlanta United FC – professional soccer
Georgia Bulldogs – College sports
Georgia Tech Yellow Jackets – College sports
Atlanta Dream – Women's professional basketball
The Masters golf tournament – the most famous of the professional Major tournaments
Great Food and Live Music (Pro)
Georgia is known for its great food and music. Here are some of the notable offerings for some well known areas.
Atlanta: Georgia's largest city has a thriving music scene that includes a wide variety of genres including jazz, hip-hop, rock and country. From a food perspective, the city offers everything from southern fare to international cuisines. Some neighborhoods such as Midtown, East Atlanta Village and Buckhead are known for their live music and food.
Savannah: The city is known for its Southern cuisine and historical charm. Some of the classic dishes include fried green tomatoes, shrimp and grits, and fresh seafood. Jazz, blues and acoustic live music are enjoyed by many.
Athens: Home of the University of Georgia Bulldogs, this city is also known for its history of bands include R.E.M. and the B-52's. There are numerous music venues of both large theaters and smaller clubs. The food offerings includes a variety of southern, farm style and international cuisine.
Augusta: Located in the eastern part of the state, it also has a well known music scene of blues and soul. The annual Augusta Blues & Swing Week brings in a number of well known musicians. A wide variety of food choices include upscale dining options.
Macon: In the middle of the state, this city is often known as the "Home of Southern Rock." Some of the legendary musical acts from here include Otis Redding and the Allman Brothers Band. The city also costs music festivals. Some of the food choices include barbecue and traditional southern options.
Busy airport with lots of flight options (Pro)
The rankings do change on occasion, but Atlanta typically ranks as the busiest airport in the country and is often the world's busiest airport.
This could be a con if you live right in that area and have to deal with all the traffic and activity.
However, for many it is a Pro. This is because Atlanta is a major hub for many airlines. As a result, the airport gets lots of usage, which means there are lots of flight options.
Anyone that is within reasonable distance from the airport will see great benefits in having one of the busiest airports within their grasp.
High Quality university and technical colleges (Pro)
For those pursuing higher education, Georgia has some very good choices.
Some of the best colleges in Georgia include:
Georgia Institute of Technology – Atlanta
Emory University – Atlanta
University of Georgia – Athens
Mercer University – Macon
Agnes Scott College – Decatur
Other well known colleges include Augusta University, Berry College, Spelman College, Piedmont University, and Georgia State University.
There are other well know choices too, such as Gwinnett Technical College, Georgia Southern University, Columbus Technical College, Central Georgia Technical College and Lanier Technical College.
Lower tax burden (Pro)
Georgia is currently ranked 36th in tax burden, which puts it in the lowest 25% of all states.
The overall state burden is currently 7.46% on average. This compares to the worst state (#1), New York, at 12.47% and lowest state (#50), Alaska, at 5.06%.
The Georgia state burden of 7.46% is broken down as follows as shown on the WalletHub website.
Property taxes (2.58%)
State income tax (2.11%)
Sales & Excise tax (2.77%)
CONS OF LIVING IN GEORGIA
Personal preference will determine how big a Pro or Con is for you. Here are some cons that have applied for some.
Hot and Humid Summers (Con)
As discussed earlier, the annual weather overall is some of the best in the country. However, the hot summers can be a lot to handle for many, especially with high humidity. The high temperatures impact some people more than others. Having air conditioning or a place to cool off is critical for the summer months.
If hot weather is something you have trouble with, you need to make adjustments to adapt.
Traffic issues in major cities (Con)
Atlanta is a major city that can often experience significant traffic congestion. Dealing with bumper to bumper traffic at times can be difficult to handle.
Metro Atlanta has some of the most difficult traffic around.
It's important to adjust your schedule, if possible, to avoid or minimize your exposure to heavy traffic.
Health care access in rural areas (Con)
Quality healthcare is abundant in urban areas, but can be an issue for those living in smaller towns.
Fewer physicians and healthcare facilities in rural areas often result in patients traveling great distances in order to get healthcare.
Political tension (Con)
The state is considered a swing state / purple state. As a result, political tensions have run high in recent years.
Nothing is inherently wrong with that, but if that kind of tension stresses you out, you should be aware in advance.
Public Schools are inconsistent (Con)
Georgia overall ranks 36th in the country according to Wallet Hub for public schools. That puts it in the lower third in overall rankings. However, that is an overall state score and just like anywhere else, there are pockets of excellence and areas that are lagging.
You can find the highest ranking public schools here as well as a ranking of the best high schools.
Bottom line is that if you have options on where to live and do your homework, you can likely find areas with great schools.
Violent Crime Rates (Con)
In reviewing violent crime rates nationwide by state, Georgia ranks near the midpoint compared to other states. It's not in the top third and it's not in the bottom third, it's in the middle third. Here is one ranking at Wikipedia by state.
As is the case nationwide, large cities tend to have high crime rates compared to rural areas. When reviewing the ranking of violent crimes by city, Atlanta ranked 27th in the country according to this Wikipedia listing. Savannah, Georgia was the only other city to make the list of the top 100 cities for crime at 70th in violent crime.
Before picking a place to live be sure to do some thorough research on crime in the area you are considering.
Mosquitoes and other bugs (Con)
Having mild winters does have one drawback, and that is a higher bug population.
Georgia ranks high in bug issues compared to many states as do other southern states.
If you can think of a bug, they probably have it. If you live in Georgia you will likely need to spend some money on pest control.
Hurricanes (Con)
Severe weather can be an issue in some states. Unfortunately, Georgia is one of those states.
Georgia ranks in the top 10 of states with Hurricane risk at #7.
The top 10 listing is not evenly distributed, however. Florida is #1 with 120 hurricanes over a 160+ year period compared to 22 hurricanes for Georgia over that same time period.
Regardless, the hurricane risk is real and needs to be considered.
Summary – Pros and Cons of Living in Georgia
Pros:
Low cost of Living
Overall good weather
Natural Beauty
Southern Hospitality
Growing Job market
Sports Fan Culture
Great food & Live Music
Busy airport with lots of flight options
High Quality Colleges and Universities
Lower Tax Burden
Cons:
Hot and Humid summers
Traffic issues in Atlanta
Health care access in rural areas
Political tension
Inconsistent public schools
Violent crime rates
Bugs
Hurricanes
We hope you got value from this article. Please leave us a comment!
OTHER ARTICLES TO CONSIDER
Top tips to Save Money on Prescription Drugs
Ten ways to offset high gas prices